1989
FIRST STEP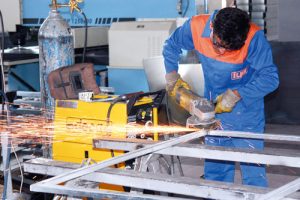 İsmail Hakkı BAÇ founded the first spray booth
manufacturer company, then named "Ilke Celikcilik"
1993
TURKEY'S FIRST SPRAY BOOTH
İlke Makina ve Ticaret Limited founded and Turkey's first spray booth manufacturer started its first brand "FIRAT".
1998
FIRST EXPORT
Ilke Makina made its first export to Germany.
1999
FACTORY OPENING
İlke Makina, opened its factory in Akhisar Organized Industrial Zone.
2005
CLIMBING UP
İlke Makina started designing and manufactoring spray booths for different companies.
2008
RISE OF AUTOMATION
İlke Makina expanded its factory to 5000 square meters and improved its capacity by adding new machinery to its production plant.
2013
İLKE ENDÜSTRİYEL Inc.
The Company name has been changed from "İlke Makina" to ILKE ENDUSTRİYEL BOYAMA SİSTEMLERİ ve OTOMASYON A.Ş.
2014
9500 m² of PRODUCTION PLANT
İlke Endüstriyel expanded its closed production plant to 9500 m² and became the biggest spray booth and paint shop manufacturer of Turkey.
TODAY
TODAY
İlke Endüstriyel A.Ş. exports 70% of its production to over 50 countries.