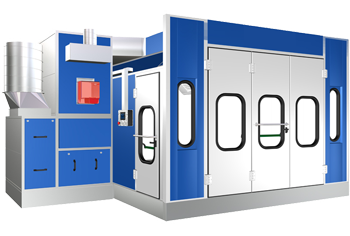 SBK 6000 / SBK 7000 SPRAYBOOTH
SBK 6000 - SBK 7000 paint booth model is the economic model offered by ILKE with its 30 years of production experience.

The SBK 6000 - SBK 7000 spray booths will ensure you have a clean and dust-free system for a healthy working environment, a high quality and professional surface painting process. You can apply painting and drying to the vehicle or part with the air duct sprayer working under low pressure.

SBK 6000 - SBK 7000 models are taken from outside the facility with air ceiling filtering system. Paint particles are separated from air by holding with paint stop filters. The cabin is equipped with a diesel burner and fan - motor units. In addition to the entry ramp in front of the cabin entrance, a metal frame or a excavation work can be mounted on the plant floor by connecting a channel to the units for air circulation.

With the SBK 6000 - SBK 7000 model, you can control your costs while operating in accordance with health and safety norms.