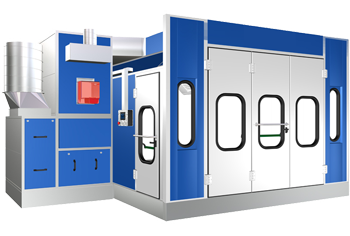 FBK 6000 / FBK 7000 SPRAYBOOTH
FBK 6000 - FBK 7000 Spraybooth is the standard and best selling model of Ilke Endustriyel with 27 years of production experience.
Our this model spraybooths will ensure you have the ideal system for a clean working environment, a clean and dust-free system that you need for quality and professional surface painting. You can apply painting and drying to vehicle or parts with spray gun with air duct under low pressure. Air dampers are available in the system so that air velocity in the spraybooth can be calibrated optimally depending on booth dimensions.
In FBK 6000 - FBK 7000 paintbooth models, air is taken from the outside of the facility by ceiling filtration system. The paint particles are separated from the air paint stop filters. The booth is equipped with diesel or, optionally, natural gas burner and fan - engine units. The cabin is normally installed on the floor. Supplied with standard car entry ramp. Optionally, after a concrete excavation work has been performed on the floor, the spraybooth can be buried in the floor. The excavation project must be carried out according to the concrete excavation project that we'll provide. Thus, the floor can be installed in the floor and the vehicle can enter the spraybooth without ramp.